About Us
Dr. Alberto E. Vadillo has been practicing for over 40 years and has been affiliated with Mount Sinai Medical Center for 36 of those years.
Because of his experience we are proud to have a cardiology practice that is dedicated to excellence and compassion.
Our top priority is our patient's health, and we demonstrate this by providing incomparable cardiac care.
Our goal is to improve the health and quality of life of our patients. Our staff is kind and efficient. As soon as you walk in the door, you will be treated like family.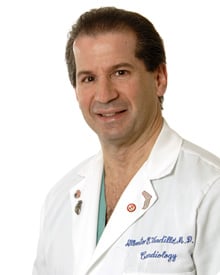 Dr. Vadillo is a dedicated Clinical and Interventional Cardiologist that assures a personalized approach to the patient while maintaining a high standard of excellence.

Dr. Alberto E. Vadillo practices at Mount Sinai Medical Center, where he is a senior attending physician at the cardiac catheterization laboratory.
With over 40 years of experience, Dr. Vadillo has chaired Mount Sinai's credentialing and medical services review committees. He is also a diplomat of the American Board of Internal Medicine; a fellow of the Society for Cardiac Angiography and Interventions; and a member of the American Medical Association, the American College of Physicians, the American College of Cardiology, the American Society of Internal Medicine, the American Heart Association, Spanish Royal Medical College and is a visiting professor for the University of Zaragoza. In addition, Dr. Vadillo works closely with the pharmaceutical and medical device industries, where he serves as an advisor, faculty member and speaker for several companies.
After graduating from the University of Zaragoza School of Medicine in Spain, Dr. Vadillo completed his internship, internal medicine residency and cardiology fellowship at Mercy Catholic Medical Center, a Thomas Jefferson Medical College affiliated hospital, in Darby, PA. He completed an additional cardiology fellowship at Mount Sinai Medical Center, FL.
Great doctor. Been a patient 10+ years and wouldn't change him for anything. Pleasant, knowledgeable, and actually listens (rare nowadays) to your questions or concerns. Experience without question as he does procedures daily and I myself have had to have several and no issues whatsoever.
-Walter A.
Exceptional Experience!!! Dr. Vadillo was recommended to me by a client/friend who is an anesthesiologist at Mt. Sinai Miami Beach after I told him about a horrendous experience I had there in January of this year. I had a heart attack and was subjected to the worst team of physicians you could ever have and an unsuccessful attempt to clear a blocked coronary artery. They kept me in ICU for 5 days doing nothing for me and providing horrendous service. I would never have gone back there but I was convinced that that hospital was the closest to my home and would have to go there in an emergency. Well the rest of the story is nothing short of a miracle. Dr. Vadillo is a Godsend. He made the time for me to answer my many questions, he reacted very quickly getting me in for a stress test in 2 days and into the hospital the next day...and the surgery was completely successful! Everyone I spoke to had nothing but high praise for Dr. Vadillo. I highly recommend him to anyone. Thank you Doctor
-Randy R.
Mount Sinai Medical Center
4302 Alton Rd Suite 330

Miami Beach, FL 33140
Phone: (305) 535-8303

Fax: (305) 535-8909

Marisol Valdes-Practice Manager

MarisolValdes@VadilloHeart.com
Marleny Peguero-Patient Representative
MarlenyPeguero@VadilloHeart.com
Dailys Mendieta -Medical Assistant
DailysMendieta@VadilloHeart.com