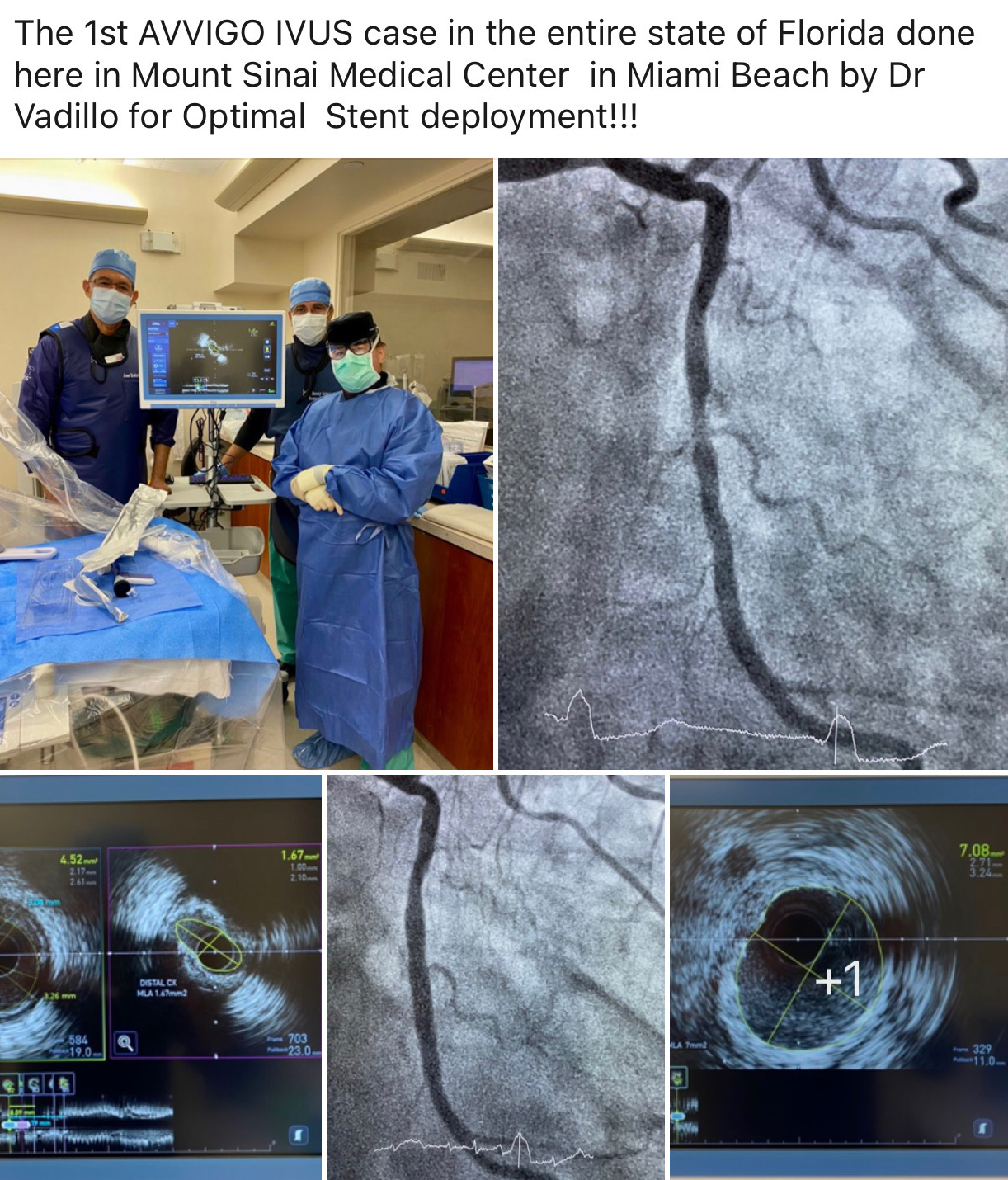 Clinical and Interventional Cardiology
Dr. Vadillo is an expert in the care of your heart and blood vessels. They can treat or help you prevent a number of cardiovascular problems. Dr. Vadillo also specializes in specific areas, such as abnormal heart rhythms, heart failure or heart problems you've had since birth.
Left heart catheterization: Cardiac catheterization (kath-uh-tur-ih-ZAY-shun) is a procedure in which a thin, flexible tube (catheter) is guided through a blood vessel to the heart to diagnose or treat certain heart conditions, such as clogged arteries or irregular heartbeats. Cardiac catheterization gives Dr. Vadillo important information about the heart muscle, heart valves and blood vessels in the heart.

During cardiac catheterization, Dr. Vadillo can do different heart tests, deliver treatments, or remove a piece of heart tissue for examination.

Usually, you'll be awake during cardiac catheterization but be given medications to help you relax. Recovery time for a cardiac catheterization is quick, and there's a low risk of complications.
Right heart catheterization. This procedure checks the pressure and blood flow in the right side of the heart. A catheter is inserted in the vein in the neck or groin. The catheter has special sensors in it to measure the pressure and blood flow in your heart
Angioplasty : A procedure used to open blocked coronary arteries caused by coronary artery disease. It restores blood flow to the heart muscle without open-heart surgery. Angioplasty can be done in an emergency setting such as a heart attack. Or it can be done as elective surgery if Dr. Vadillo strongly suspects you have heart disease. Angioplasty is also called percutaneous coronary intervention (PCI).

For angioplasty, a long, thin tube (catheter) is put into a blood vessel and guided to the blocked coronary artery. The catheter has a tiny balloon at its tip. Once the catheter is in place, the balloon is inflated at the narrowed area of the heart artery. This presses the plaque or blood clot against the sides of the artery, making more room for blood flow.

Dr. Vadillo uses fluoroscopy during the surgery. Fluoroscopy is a special type of X-ray that's like an X-ray "movie." It helps the doctor find the blockages in the heart arteries as a contrast dye moves through the arteries. This is called coronary angiography.

Dr. Vadillo may decide that you need another type of procedure. This may include removing the plaque (atherectomy) at the site of the narrowing of the artery. In atherectomy, Dr. Vadillo may use a catheter with a a rotating tip. When the catheter reaches the narrowed spot in the artery, the plaque is broken up or cut away to open the artery.